going to "The Ice" . . . Story 3
I had been stationed at Naval Station, Roosevelt Roads on the island of Puerto Rico for just over four years. I had received orders to U.S.S. Elmer Montgomery, a fast frigate home-ported in Mayport, Florida. But, where I really wanted to go was Antarctica! I had submitted a request for selection to "Operation Deep Freeze" a couple of years before, but had not been selected.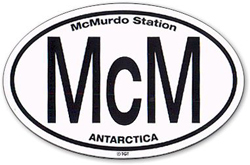 To be able to spend the winter in Antarctica, with Operation Deep Freeze, you had to put your name on a list of volunteers. And, strangely enough, the number of volunteers far exceeded the limited number of positions the Navy had to fill. Who'd have thought it? So, the following year I applied again. I wasn't selected, but this time I was told that I was designated a "first alternate" and if they needed me, they would call me. Boy, who hasn't heard that? But, I had no idea if I was the first "first alternate" or the second "first alternate" or if I was at the bottom of a long list of "first alternates." But, nevertheless, I was to follow my orders and go to the Montgomery in Mayport, Florida.
So, being the good little sailor that I was, I left Puerto Rico in February 1979 and headed for Florida. I flew from San Juan to Indianapolis to visit my family for a few days. I then flew to Orlando, Florida to pick up a car that I had shipped from Puerto Rico. I immediately sold it (a 1974 Triumph Spitfire that I had wrecked and, sadly, was a piece of junk), got a rental and drove up to Mayport to report to the Montgomery.
A little more than a month after I reported aboard, the Montgomery left Mayport for a six-month deployment to the Persian Gulf. We sailed across the Atlantic, through the Mediterranean Sea, the Suez Canal, the Gulf of Suez, into the Red Sea, and through the Gulf of Aqaba to do our "turn over" in the port of Aqaba, Jordan. A "turn over" is the process of relieving the ship that is currently doing the job that you are coming in to do, and, unfortunately has nothing to do with pastry. It's a matter of getting the information, special logistics and any little tips or tricks that might be helpful to you while you're on station. We spent a couple of days in Aqaba and then got underway.
We went back into the Gulf of Aqaba, through the Red Sea, the Gulf of Oman, and the Straits of Hormuz. About thirty days after leaving Mayport, we were in the Persian Gulf. The "Gulf". The "PG". It goes by many names, but by any of them, it's not a fun place to be.
In April 1979, there wasn't a lot going on in the Persian Gulf. Oh, Iraq and Iran continued their skirmishes, as they had for centuries, but Iraq wouldn't attack Iran and start their eight-year war for more than a year. In early 1979, the Gulf was hot, it was dry, it was quiet and it was boring. Oh, was it boring! We were the only US warship in the area. We spent our days and nights cutting grooves in the water. Back and forth. Back and forth and then back again. We had absolutely nothing to do, but we had all the time in the world to do it.
However, that was about to change for me. The ship was staying in the Gulf, but I was leaving. I was going to Antarctica! Shortly after we arrived in the Gulf, I received my orders to Deep Freeze.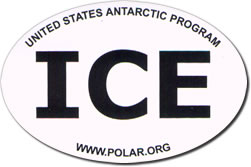 My wish had come true. One of the Electronics Technicians (ET) that had originally been selected for Deep Freeze had decided that an all-expenses-paid vacation-for-one to the bottom of the world was a whole lot more, or maybe a whole lot less, than he had bargained for. He dropped out and I, also an ET, was called to take his place. There would be times in the days and months ahead that I, too, would wonder if I had made the right decision. But, at the time, I was ecstatic. I was going to "the ice"!
I got on a plane in Bahrain, which is another story, and flew to New York City, via Frankfort, Germany and London, England. Another flight to Orlando and a drive up to Indiana once again. A "short" drive back to Orlando and then I'm on a road-trip to California. Port Hueneme, CA, to be exact; thirty miles, or so, North of Los Angeles. After a few weeks in California, I had to drive back to Orlando and then get a flight back to LA. Four days later, I was on a plane leaving the Naval Air Station at Point Mugu (near Port Hueneme) heading for Christchurch, New Zealand. We stopped for fuel at Hickam Air Force Base in Honolulu, and again in Pago Pago, American Samoa, which is nicely located half-way between Hawaii and New Zealand. Two days after arriving in Christchurch, I boarded a Navy C-130 for the twelve hundred mile trip to McMurdo Station on Ross Island, Antarctica. So, between the beginning of February and the end of August, 1979, I traveled . . . well, I have no idea how many miles I traveled. But, I'm guessing it was a lot. If only I had gotten frequent-flyer miles!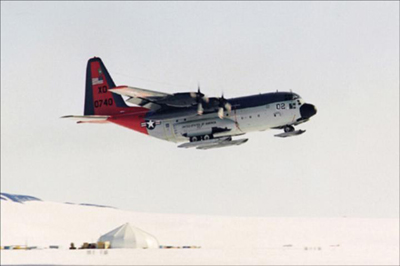 On the 29th of August 1979, after nine hours on a C-130 Hercules, we landed on the snow, 'with our skis on', within the vicinity of Williams Field at McMurdo Station, Antarctica. The air temperature was 48 below zero and the winds were totally calm. By the time we landed, the few minutes of twilight that had been allotted for that day had expired and it was starting to get dark again.
When the tail ramp of the plane was lowered, the cold outside air mixed with the relatively warm inside air (it wasn't warm on the plane, but it wasn't 48 below, either) and became a thick, white, frosty fog. This was one of those moments when I thought that I just might have screwed up by volunteering for Deep Freeze. When I got to the door, I looked out and saw several men standing on the snow. I only assumed that they were men, because they were bundled up so well I could just barely see their eyes; dark, blank, staring eyes. Because the winds were so calm, their breath hung around their head in white clouds. It was a pretty eerie sight. Not the welcome I had envisioned. No "WELCOME" signs, no band playing. Just a bunch of guys that was neither happy nor upset to see us arrive. My judgment came into question again.
Like I said earlier, my fourteen months on the ice was the highlight of my Navy career. I had volunteered to go down six weeks early. They called this the Winter Fly-In, or 'WinFly'. The command normally didn't let "winter-overs" go down early. I guess they figured a year on the ice was enough. My bosses told me later that they had regretted letting me go down early, but for me it was a definite advantage and I was very glad I had gone.
WinFly brought in about a hundred people to start getting things ready for the "main body" that would arrive six weeks later. The population of McMurdo was now double what it had been during the winter, but nowhere near what it would be once the summer period began. So, during WinFly, the population and atmosphere of McMurdo was much closer to that of the winter-over period than it was to that of the summer. The winter is much more laid-back and a lot darker.
The summer is a time of chaos with about 1500 people coming in and out of "town". Everyone thinks that they, and their particular quest for science, should have top priority over everyone and everything else. The Navy was there to support these efforts. Believe me, there are times when you can't please any of the people any of the time! But, we tried.
I know that, had I not gone early and seen the difference between summer and winter there, there's a good chance that I would have forgotten my dream and been on a plane headed north, long before the end of the summer. But, I could see that, if we could just get through the summer and get all of the "tourists" out of town, better times were ahead. So, I stayed. And, that means that the 'ice' stories have just begun.
But, that's all for now. Thanks for stopping by.
Ken